All of our locations and Thrift Stores are temporarily closed. We are not accepting any donations at this time. Please check back for updates
COVID-19 Update
We value our members, staff and the greater NPI community and  have been proactive in keeping our members, staff and their families safe and our programs operational during this extraordinary and unprecedented time. The health and safety of our members, staff and their families is our top priority. We are joining in the efforts underway to slow the coronavirus by suspending our Day and Work Programs including all THRIFT STORE locations hopefully for only a short period of time, effective March 27, 2020 @ 4:00pm.We will not be receiving or picking up donations until further notice. We will be making weekly evaluations and will keep you informed of new developments.
Thank you for your continued support.
OUR MISSION
Proactive Planning for Special Needs through Vocation, Recreation and Socialization
Founded as an "independent non-profit agency" in January of 2006, Nobody's Perfect Inc. was established to support the choices of people with developmental disabilities and their families. These are valued individuals involved and participating in the community, making decisions for themselves. We assist with qualifying for programs that would benefit them and their desire for productive independent living and financial success.
WE HELP YOU BECOME SUCCESSFUL
Recognizing people's strengths, promoting self-reliance, enhancing confidence and building on community resources are the building blocks that Nobody's Perfect Inc. utilizes to establish indiviuals with special needs as successful employees and entrepreneurs.
OUR STORY
We started in January of 2006 with a goal to provide vocationally based support for adults with developmental disabilities. At that time, with a staff of one and donated space set in a Guthrie Mainstream Services building, we began pre-vocational training programs for 3 to 4 individuals working in our first retail snack store and light janitorial service. Our workers earned a minimum wage of $5.15 per hour for 1 to 2 hours per week. By the end of spring 2008 we applied for and received approval as a Qualified Vendor for the Arizona Division of Developmental Disabilities (DDD) to provide supported employment services directly to their members. Our first Group Supported Employment (GSE) enclave did scanning; shredding and operated a larger snack store that also has a reverse osmosis water system to vend purified, healthy drinking water to the community. In 2009 D Williamson stepped out of her position as board president and became Chief Operating Officer, bringing with her ideas, programs and social enterprises that have proven extremely beneficial to our purpose. In 2010 we proceeded with plans to extend farther out into the community. That is how we landed our Day Training Program (DTA) and Work Center in Queen Creek in September of that year. Identified as an area of need by the DDD, we leased three suites and with 100% of our own funds, completed the build out of our current home on San Tan Boulevard. Our Thrift Store was established at the same location later in 2011 as a response to the decision not to do anymore yearly rummage sales as a fundraiser. We still had so many of our supporters who wanted to continue to donate items, so the thrift store gave us a venue to sell them and again "put more people to work". We added additional space to the thrift store in 2012. Today in three separate suites, our thrift stores in Queen Creek employ 12 GSE workers daily with a support staff of 6. The community response has been wonderful. We have regular customers who purchase and donate items and appreciate exactly what our purpose is because they are telling their friends. In 2016 we purchased property on the corner of Power Road and Main Street in Mesa. That location contains our 5000 square foot "Barry's Bargains" Thrift Store, named in memory of our dear friend and first DTA member Barry. The store is staffed with our GSE members and their support staff.
Transportation is a very important part of our service. Many who attend our Vocationally Based Day Program or work in certain enclaves would not be able to do so without appropriate transportation. In 2010 and 2011, with the assistance of the Maricopa Association of Governments, the City of Phoenix and the Arizona Department of Transportation, we were granted three new minivans and one new twelve passenger wheel chair lift van as part of a federally funded, multimodal transportation plan. These vehicles have been a necessary asset to our fleet of 13 non-emergency transportation vans and 3 support vehicles . As part of the MAG requirement that encourages collaboration, we set up a vehicle usage exchange with Guthrie Mainstream Services to get the maximum effectiveness from our lift van. We believe we have taken a leadership role in the community with this exchange program.
As of January 31, 2018 our staff of 25 full-time, part-time and administrative personnel support 55 individuals, with 52 of them in some type of community based employment receiving real pay for real work. You can see our organization continues to grow and of course with any growth we will experience many needs going forward. Thank you for taking the time to read through the following pages to see what we do, where we are headed, and for giving thought to how you can participate in advancing our mission.
OUR THRIFT STORES                                     
The Queen Creek Thrift Stores were opened specifically to provide jobs for the people we serve who would like to work in a  community based environment. We now have three separate thrift store suites in the same business plaza as our Day Program at 18911 E San Tan Boulevard, Queen Creek AZ 85142. The clerks who are assisting you have been or are being trained to make your visit both pleasant and  professional. We appreciate your patience with our process and your support with your donations or purchases.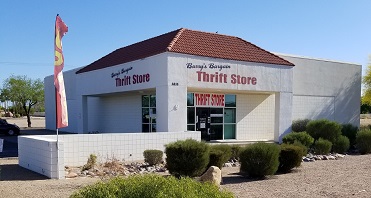 Donations may also be dropped off during regular store hours in Queen Creek seven days a week except holidays from 8:00 am to 3:00 pm,
or at Barry's Bargains Thrift Store at 6838 E Main Street Mesa AZ 85207; Monday through Saturday from 8:00 am to 3:00 pm.
We also have a work group that can pick up your items by appointment.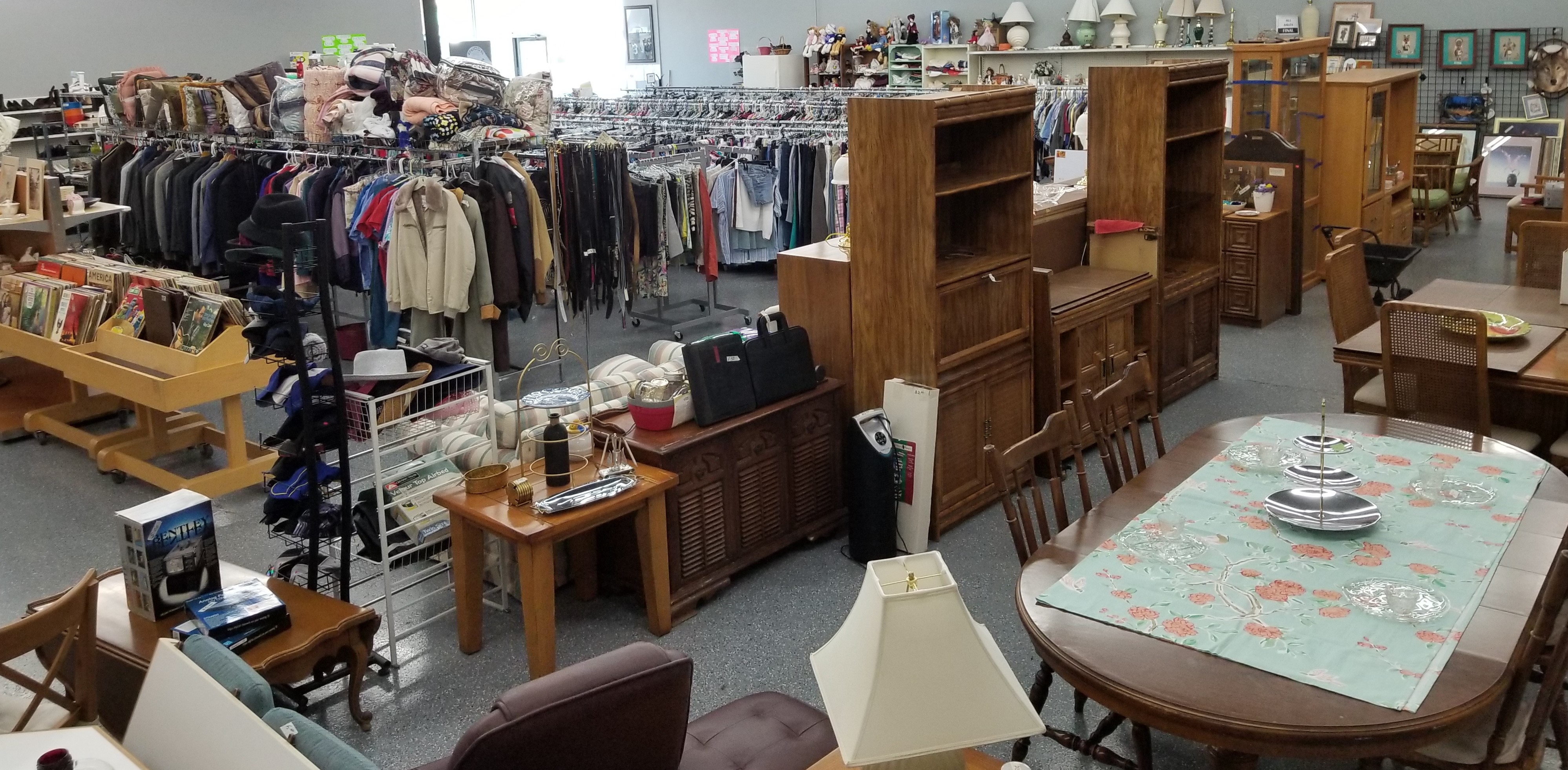 Queen Creek Thrift Store hours are Sunday through Saturday  8:00 am to 3:45 pm
Barry's Bargains Thrift Store hours are Monday through Saturday 8:00 am to 3:45 pm
PICKUPS CAN BE ARRANGED by calling 480 -840-9351
or emailing us at admin@nobodysperfectinc.org and will be scheduled Monday through Friday between 9:00 am to 1:00 pm.
NOTE: We certainly appreciate your donation but please be considerate of what you are donating as we are reselling what you donate. We do not pick up trash. 
ITEMS WE DO NOT ACCEPT: 
Mattresses or Box Springs, Broken, Torn or Heavily soiled furniture, Entertainment Centers or Wall Units, Office Equipment or Large Desks,
Heavy Fitness Equipment; (Treadmills, Elliptical Machines etc.) 
BBQ Grills, Televisions, Liquids or Hazardous and Flammable Materials.
---
---